Cities for or against citizens?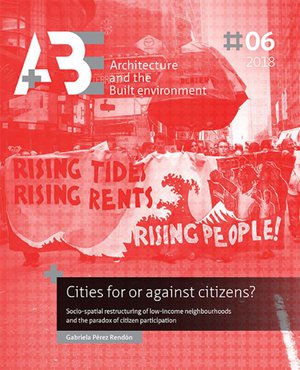 Socio-spatial restructuring of low-income neighbourhoods and the paradox of citizen participation
€ 29,95
Ingenaaid boek
pagina's 350
isbn : 9789463660235

Geen informatie over de levertijd
Beschrijving
Urban renewal has evolved into an ambitious and sophisticated urban strategy, recognised as urban revitalisation in America and urban regeneration in Western Europe. This new urban strategy, which tends to be area-based and state-sponsored, claims for the most part to coordinate a wide range of resources, partners and public agencies to bring about social, economic and spatial improvements in underdeveloped and impoverished city areas while improving the livelihoods of the local residents. However, as this study asserts, the objectives behind this new urban strategy have considered, for the most part, the interests of those formulating and implementing such efforts rather than local residents and stakeholders, and produced in turn 'attractive' neighbourhoods increasing city revenues, boosting real estate prices, attracting new investments and alluring new residents. Most importantly, citizen participation and gentrification have been concurrently promoted in urban restructuring policy and programmes bringing about a paradox. Citizens have been devised as both subjects and objects of governance (Uitermark, 2014). Urban restructuring programmes have called for residents' involvement in decision-making frameworks while imposing urban revitalisation and regeneration approaches guiding the fate of their neighbourhoods and putting communities at risk of displacement.

This study uses comparative research to investigate the way that urban renewal targeting low-income neighbourhoods has evolved into a new urban strategy involving principles and tactics ingrained in neoliberal economic principles. The study shows that this applies in cities led by market-driven development where governments facilitate more than regulate urban growth, and in cities partially exposed to market-driven development and led by interventionist governments which regulate and guide urban restructuring transformations. New York City and The Randstad Holland have been selected as study areas. Above all, the role public policy, instruments and institutional frameworks have played in facilitating citizens' involvement in decision making in these contrasting contexts is particularly scrutinised looking at two neighbourhoods in the municipalities of Brooklyn and Rotterdam; Bushwick and Tarwewijk, respectively. The study exposes the motives, successes and drawbacks of public programmes and instruments fostering citizen participation and community-led change, in an effort to both create awareness of potential risks in the case of unsuccessful initiatives, and envision the exchange and adaptation of some of those successful schemes for the production of more equitable neighbourhoods.

This thesis asks to what extent urban restructuring trends converge in the two contrasting geographical areas since both territories have been exposed to the same global agents and influences that have impacted urban restructuring policy and interventions (i.e. neoliberal economic policies, global financing, interurban competition, etc). However, it recognizes that the outcomes may manifest differently due to differences in welfare programmes, urban policy, implementation frameworks, local and global housing markets at the neighbourhood level, as well as variations in local governance structures and instruments facilitating civic participation in urban and housing restructuring programmes.
Detail product
| | |
| --- | --- |
| Door (auteur) : | Gabriela Pérez Rendón |
Taal : Engels
Gewicht : 806 gr | Hoogte : 235 mm | Breedte : 190 mm | Dikte : 22 mm